Green technology for animal welfare and profitability
The revolution in Animal Husbandry has begun. Leader PF Full Electric is born, a self-propelled 100% electric mixer wagon that completes Faresin's electrified range, launched in 2018 with the unveiling of the world's first electric telehandler. A 360-degree sustainability concept that aims at circular economy and reduction of farm emissions.
Leader PF Full Electric is designed to make use of the electricity that farms produce in large quantities through photovoltaic or cogeneration plants, and at extremely low cost. At the same time, the machine produces no pollutant emissions, thus reducing the environmental impact of the farm. The use of electrical technology also promotes animal welfare and enables certification of the production chain.
In fact, in recent years the issue of emission reduction has become increasingly important in agriculture, leading to increased interest in electrified machines. Electrification, in addition to being a trend in all sectors, is a technology that by nature brings numerous benefits such as lower fuel consumption, lower costs, reduced noise and greater sustainability. Faresin intercepted this trend more than 6 years ago, times when agricultural machine sustainability was still a concept reserved for only a few visionary brands, and now has a well-proven and constantly updated electrification technology.
"Thanks to the virtuous transversality that distinguishes our research and development process, we were able to implement our FULL ELECTRIC technology, completely Made in Faresin, in the Mixer Wagons line as well," comments President Sante Faresin. – The result is a machine that offers a work experience that is fully equivalent to what one would have with an endothermic engine, but without emitting greenhouse gases."
FARESIN's first self-propelled electric mixer wagon to see the light is Leader PF 1.14 Full Electric with 14 cubic meters of mixing tub capacity and a vertical auger. A perfect solution for small farms that have plants powered by renewable sources for power generation.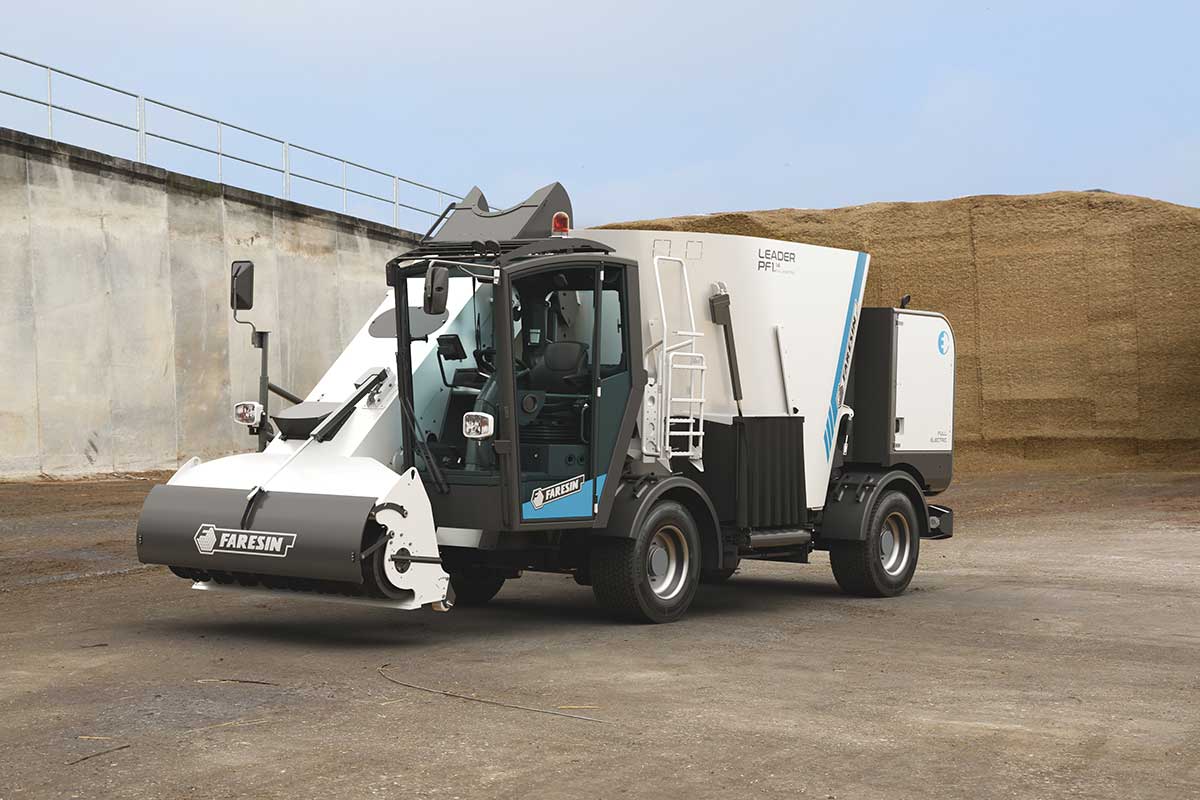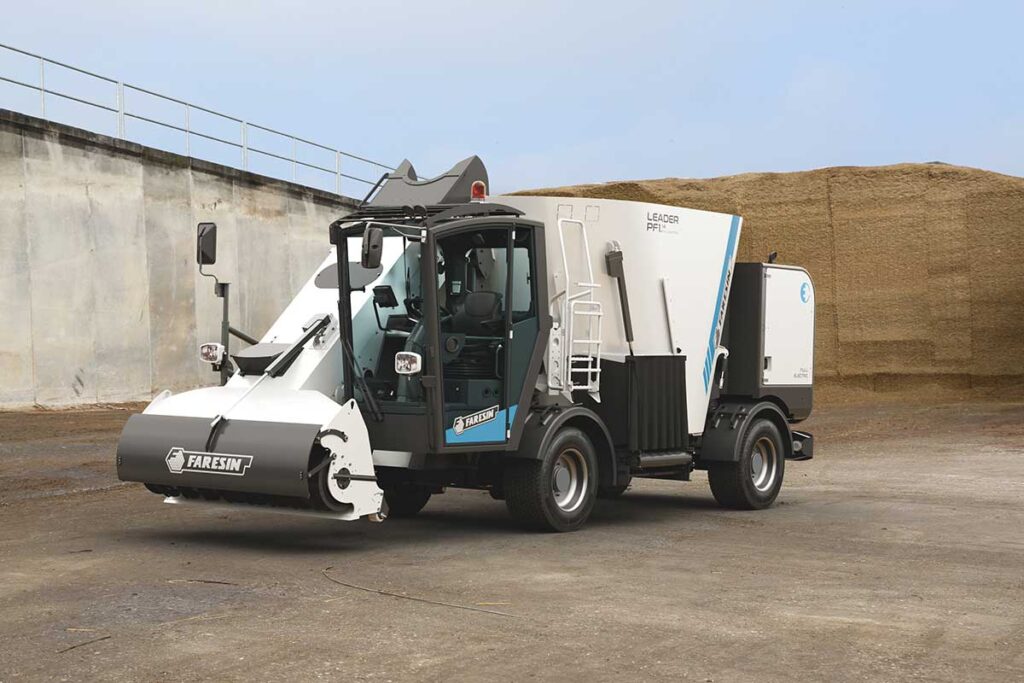 Leader PF FULL ELECTRIC: Electricity but without compromise
The performance of the new Leader PF FULL ELECTRIC was the starting point of the project. In fact, Faresin engineers have worked hard to ensure performance quite similar to their respective heat-powered models, while maintaining enough range to complete at least a full day on an average-sized farm. For this reason, the 91 kW, 210 Ah Lithium Iron-Phosphate battery integrated with Farmatics telematics for remote control was installed in the rear engine compartment. Its location at the rear allows for optimal weight distribution, greater operational convenience such as reduced dirt in the compartment and easy access to components, and a number of advantages while driving, such as comfort and visibility on the right side.
Battery charging is done with complete flexibility thanks to the Universal Charge system, a single plug-in interface for 220V single-phase and 400V three-phase supplies. The machine also has a system that recovers energy during braking and accelerator release by storing it in the battery and increasing its range.
Integrated electronic management controls the distribution of power to the various organs, which is metered as needed so as not to overload the battery and the entire system of significantly reducing consumption.
In addition, the entire system is monitored by diagnostics involving all electrical, electronic, and hydraulic parts, including the in-cab control instrumentation.
Leader PF Full Electric: Power and traction in all conditions
Tractive force comes from a 51 kW electric motor located in the rear axle, which, via a cardan shaft also transmits motion to the front axle. The system has two gears that allow travel up to a maximum speed of 20 km/h.
Like the endothermic-powered version, Leader PF FULL ELECTRIC has four-wheel drive and steering that allows three types of steering (concentric, crab-steering, and front-only). It is also equipped with hydropneumatic suspension that can be adjusted in height through a control in the cab, allowing a comfortable and safe ride.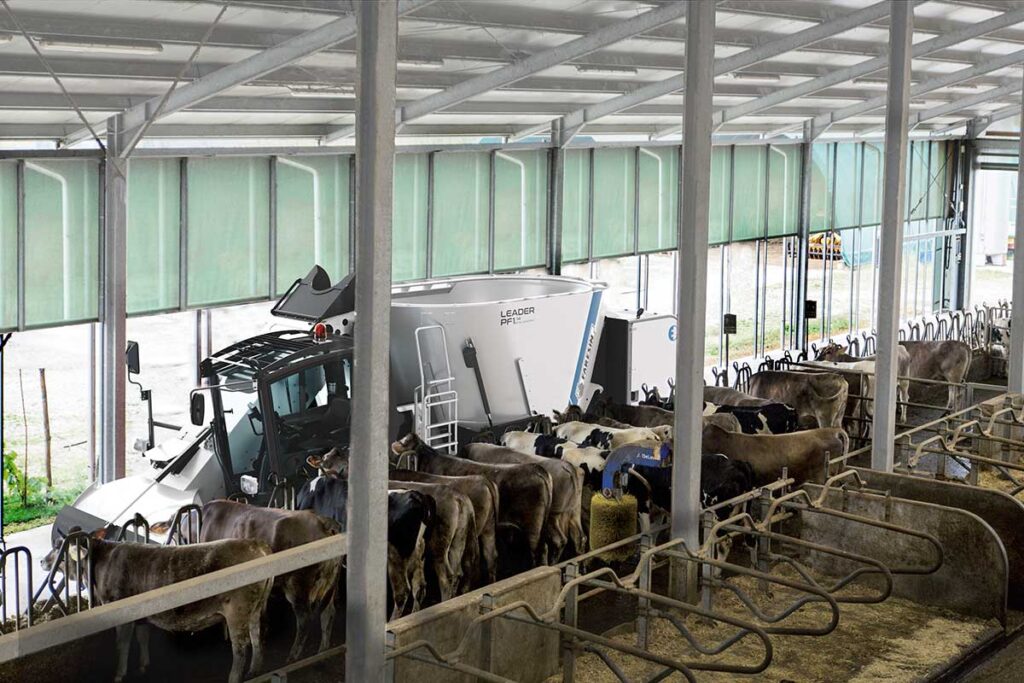 Leader PF Full Electric: Homogeneous mixes prepared with ease
The characteristic geometry of the mixing tub, combined with the special profile of the auger, makes it possible to quickly prepare homogeneous mixes while respecting the organoleptic properties of the fiber. The 45 kW electric motor ensures the right amount of power needed for all types of mixtures thanks to the 8 mixing speeds, which allow the machine's performance to be adapted to the recipe. In addition, special "Cleaning" function allows the auger to completely discharge the mixed present inside the mixing tub, preventing excessive stagnation of product dangerous to animal health.
To meet the needs of each farmer, the unloading system can be configured with various types of mats with displacement or lifting operated directly through the cabin display.
Accuracy is important to achieve good results and keep food costs under control. For this through the electronic weighing and dosing system located in the booth, or through the Farm Manager Web business management program, it is possible to program the recipe and constantly monitor the loaded ingredients. This fundamental function is complemented by the contribution of the NIR system, which, installed directly on the mixing tub, constantly monitors the unifeed and indicates to the operator the ideal time to unload once homogeneity is achieved.
Leader PF FULL ELECTRIC: Built-in performance cutter
Unlike some electrified solutions without a desilter available on the market, Faresin decided to equip the new Leader PF FULL ELECTRIC with a powerful 2000 mm wide cutter driven by a 45 kW electric motor to enable autonomous loading of the various recipe components. This choice was not so easy to implement because the milling apparatus normally drains a lot of energy. Faresin engineers have worked in this direction to cut down consumption, through power optimization, and avoiding possible overloads.
The special shape of the cutter ensures fast flow to the loading channel, respecting the structure and properties of silage, while the cutter knives remove material quickly and precisely.
Leader PF Full Electric: all-around comfort.
The PF cab, which has always been a strong point of Faresin self-propelled vehicles, allows the operator to work in a position of absolute control, thanks to large glass surfaces and excellent visibility. Onboard controls are ergonomically arranged to intuitively manage all machine functions. The new 10-inch display makes it easy to navigate through all controls and allows all machine parameters and data from the integrated NIR analysis system to be viewed in real time. The main functions are operated by the electro-proportional joystick and side keypads, while the automotive-inspired push-button panel allows precise and timely control of all loading and unloading parts.